Device Monitoring & Management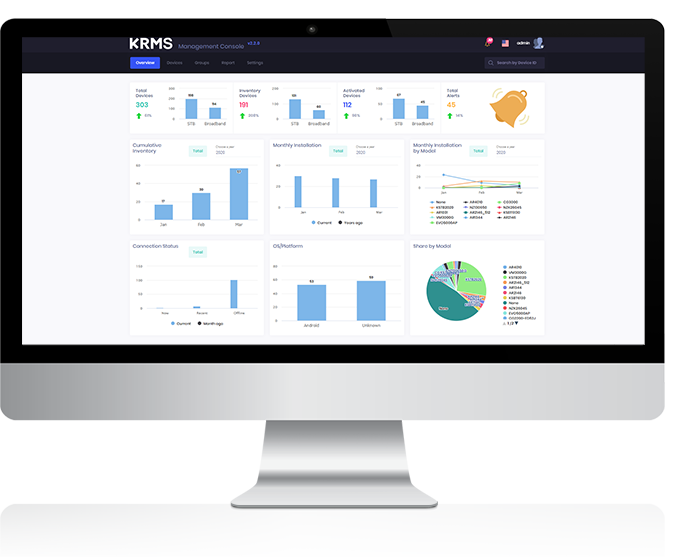 KRMS is a simplified platform for connected home devices with CPE WAN Management Protocol (CWMP) agent, TR-069. KRMS implements the full suite of TR-069, TR-181, TR135, and vendor specific parameters, enabling dynamic and unique features to optimize each operator's service environment.
KRMS Service
Operational Services

Field Care Services

BI Services
KRMS delivers the efficient operational services for operators.
Provisioning
Inventory Management
Firmware and Application Updates
Batch Operation
Subscriber Management

Based on KRMS data collection, service providers are able to offer proactive services to customers.
Device Control
Service Status Check & Monitoring
Network Setting & Diagnostics
Predictive / Proactive Alerts

KRMS provides business intelligence service to service providers so that they can analyze the data and improve the services.
Pre-defined report generator
Customized reports to align with unique operator services

KRMS Features
KRMS provides comprehensive device management capabilities from data collection,
provisioning, and remote diagnosis and control.
Tailor Your Services with KRMS Package
KAON provides KRMS solution together with hardware, middleware, and mobile application. This end-to-end solution package brings optimization of time and costs and customized solutions for services.
Let's tailor your service with KRMS package.
Contact us to learn more